Preproduction computer-generated image shown throughout. Starting spring 2022.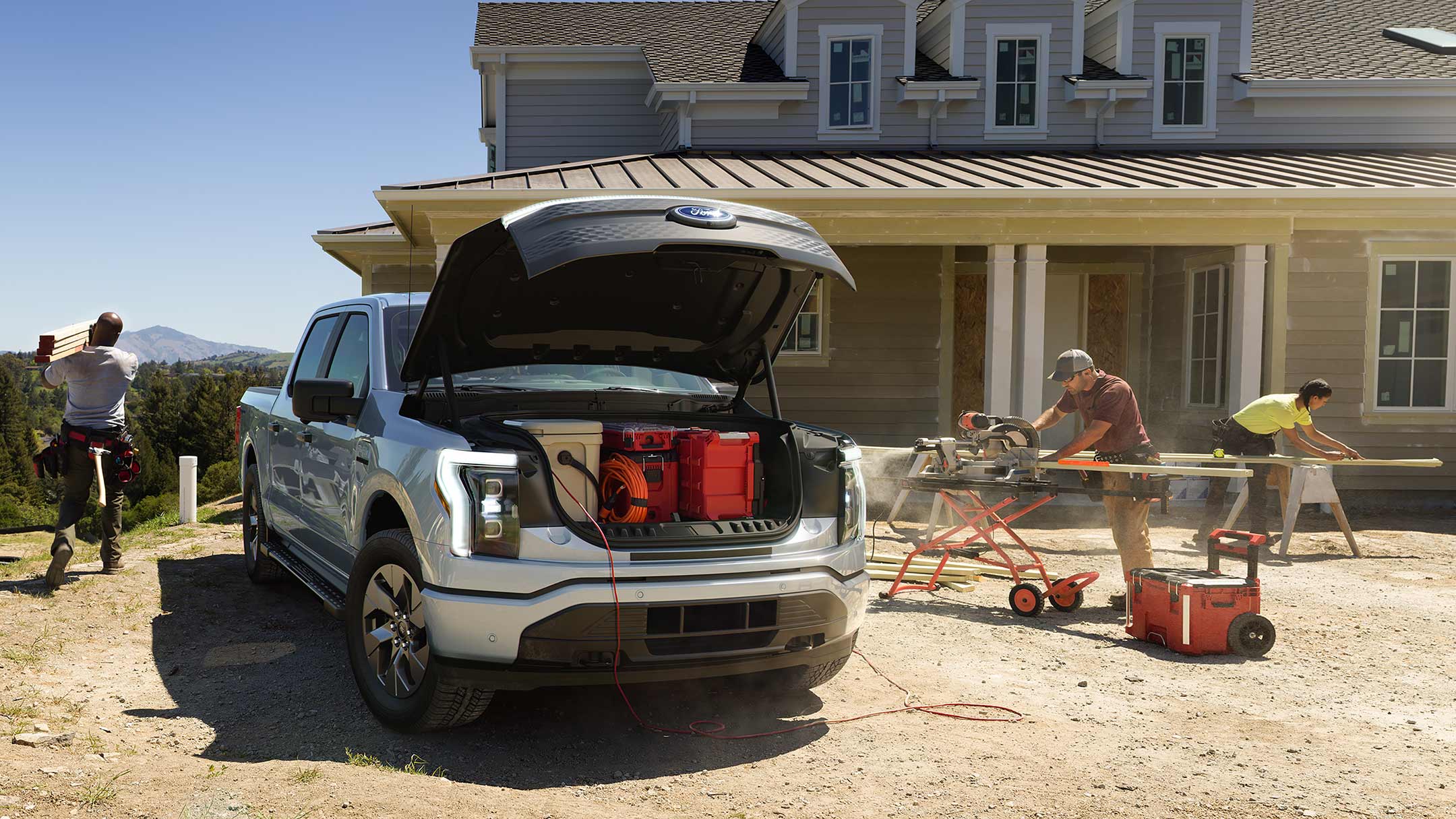 Online Reservation FAQs
What is a reservation?
A reservation lets you configure and be among the first to order a new all electric F-150 Lightning from Ford with a refundable Reservation Deposit. It is not an actual order and does not guarantee delivery.
What steps are required to complete my reservation?
Go online and select reserve now, create a Ford Account, select your preferred Ford EV Certified dealer and enter your credit/debit card details and address. A confirmation receipt will be sent to the email address you provide. *
What is a Ford Account and why do I need one?
A Ford Account lets you sign in to the Ford website to save and manage your personal and reservation information. You need to create a Ford Account to reserve your all electric F-150 Lightning. Reservations can also be tracked in your Ford Account at owner.ford.com/. *
Can I select any Ford Dealer?
To find the closest Ford EV Certified Dealer, go to the Ford.com and select 'Locate a Dealer'; insert zip code or type in Dealer name; select 'Advance Search'; check EV Certified.This will ensure EV Certified Ford Dealers are presented in your search results.
Can I make changes to my reservation?
Customers may reach out to Ford Customer Support at (800) 334-4375 for assistance in updating their dealer selection. In changing dealers, there will be no impact to a customer's reservation ID, vehicle details, or the associated timestamp.Is the $100 reservation fee refundable?
Yes, reservation fees are refunded with reservation cancellation. Allow seven to 10 business days for the reservation deposit to be credited to your original form of payment.
Will you share my reservation information with my dealer?
Your reservation information will be shared with the dealer you select at the time of reservation. Please see our privacy policy at ford.com/help/privacy for additional information.*
Can I cancel my reservation?
Yes. You can cancel your reservation at any time and receive a full refund.* You can do this in your account at ford.com. If for some reason you can't process the cancellation online, you can contact a Ford Customer Experience Representative at 800-392-3673 (Ford U.S.). After canceling, allow seven to 10 business days for the reservation deposit to be credited to your original form of payment. Once you progress from a reservation to an order with a dealer, however, cancellation requests would be at that dealer's discretion.
When can I order my vehicle?
You will be notified prior to when the  all electric F-150 Lightning ordering windows open to finalize and confirm your selection and agree on pricing with your dealer.
What is an online order?
An order sends your vehicle configuration to your selected Dealer who will then process your order request.By submitting an order and completing the order process, you are not purchasing a vehicle. Ordering does not guarantee you vehicle delivery. Your order does not guarantee a set-price for the vehicle.
Am I ordering this vehicle directly from Ford?
The all electric F-150 Lightning order is being placed on your behalf by your selected Ford EV Certified Dealer.
Can I call or visit my Dealer to place my order?
Yes, your Ford EV Certified Dealer can assist with submitting and processing your all electric F-150 Lightning order.
What happens to the reservation deposit once I order?
See your dealer for details. The reservation deposit should be credited or refunded by your dealer as part of the vehicle purchase process.*
Am I buying this vehicle directly from Ford?
No. The purchase agreement will be between you and the dealer, not you and Ford.
When will I take delivery of my vehicle?
You will be able to order your all-electric F-150 later this year. Production and deliveries will begin Spring 2022. Delivery times may vary based on vehicle model and configuration selected, residency and demand. Once your vehicle is scheduled, you will receive further notification.
How many reservations can I make and can I transfer my reservation?
Up to four reservations per account. Your reservation number is assigned to you and cannot be transferred.*
What price will I pay for my F150 Lightning?
The pricing for your vehicle will be finalized at time of order.  The entry model starts at $39,974 MSRP(commercial-oriented). More-equipped mid-series (XLT) starts at $52,974 MSRP, offering additional comfort and technology. MSRP starting at $39,974 up to around $90,474.1 This reservation does not guarantee you a specific price point.
DISCLAIMER: *By completing the Reservation Process, you are not ordering or purchasing a vehicle. Participation in the Program does not guarantee you vehicle delivery. Your Reservation does not guarantee a set price for the Vehicle.
A New Vision for Rugged Strength: 2022 Ford F-150 Lightning
Whether you are in the market to buy your first vehicle, or you are an experienced car shopper who's bought vehicles the past, chances are you know how impressive and powerful the Ford F-150 is. After all, this model is an iconic driving option -- one that drivers nationwide have trusted and invested in for decades. One of the things people love about this model (aside from its power and rugged stature) is how it consistently innovates with each year that passes. That innovation could not be more front and center than it is with the new 2022 Ford F-150 Lightning.
Combining the power and strength you expect from a Ford model with a uniquely versatile all-electric performance style, this model is truly one-of-a-kind. For those who love Ford trucks, to those who may be considering buying their first Ford model, this model is one you will want to consider.
Performance
This electric truck provides you with a host of exciting performance capabilities, all of which are designed to propel you forward on the road. This truck is 100% electric, and it has an estimated 300-mile range. That gives you the longevity you need, both for routine commutes to work and for road trips to other cities. Plus, with available Ford Intelligent Backup Power, you will have some added peace of mind when you are on the road.
Power and capability remain cornerstones of the Ford F-150 experience with this vehicle, too. It can tow up to 10,000 pounds, handle a max payload of 2,000 pounds, and offers up to 563 horsepower and 775 pound-feet of torque. Not to mention, it can go from 0 to 60 in just four seconds.
Features
The 2022 Ford F-150 Lightning comes loaded with advanced features that help keep you secure and comfortable on the road -- regardless of whether you're traveling through Post Falls, ID or Hayden, ID. For instance, with available BlueCruise, you can use features like a driver-facing camera and other radar technologies to your benefit. Available Phone As a Key allows you to start your Ford F-150 through the FordPass app. Intelligent Range gives you an idea of how much energy you are using, while also calculating the range you have left (among other things).
Another exciting addition to this truck is the available Sync 4A and the 14.5-inch portrait touchscreen. With this, you can easily access a variety of apps, features, and information with ease. Plus, its size makes seeing this information that much easier.
Ready To Learn More?
It's clear that the 2022 Ford F-150 Lightning is one of the most exciting vehicles to look forward to. Its potent combination of all-electric performance, power, and cutting-edge modernity helps make it a great investment for all types of drivers.
If you would like to learn more about it, or if you have any questions pertaining to the 2022 Ford F-150 Lightning, you are more than welcome to visit us at Mike White Ford of Coeur d'Alene, located in Coeur D'Alene, ID. Our team would be proud to help reserve your 2022 Ford F-150 Lightning today!
Visit us at your next opportunity and we can help you schedule a test drive with your preferred vehicle. We can also answer any questions about the purchasing process that you may have.
We are proud to serve drivers across Rathdrum, ID and Liberty Lake, WA, too.