Preproduction model shown.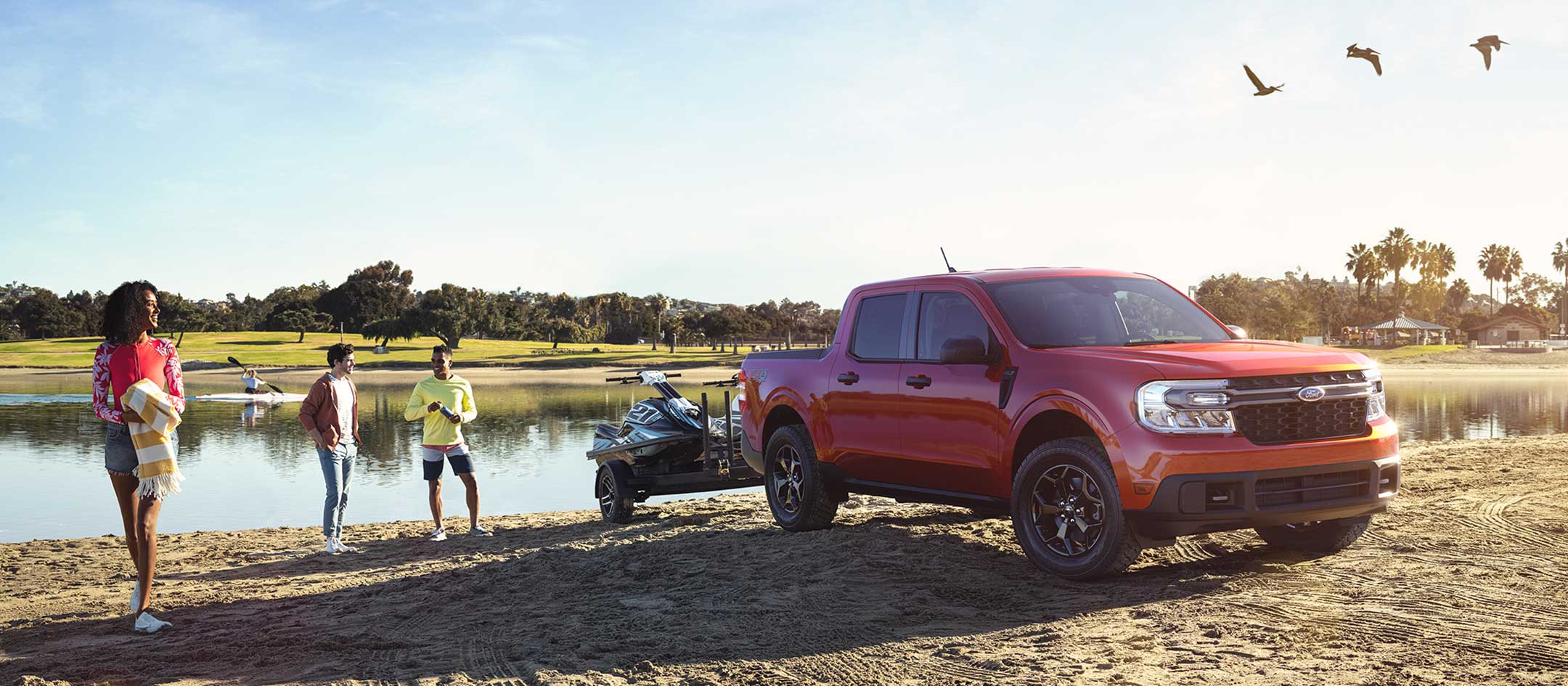 Online Reservation FAQs
What is a reservation?
A reservation lets you select your vehicle and be among the first to order a new Maverick truck from Ford. It is not an actual order and does not guarantee delivery.
What steps are required to complete my reservation?
Go online and select "Reserve Now," fill out the reservation form and submit your request to join the list for a new Maverick truck. A confirmation will display after the form is submitted and an email with be sent to the address in the reservation form.
When can I order my vehicle?
We will help you select and build your Maverick truck. We will also help you agree on pricing and finalize your order for production. The Maverick truck ordering window opens at the beginning of June 2021.
When will my vehicle be delivered?
Maverick truck production and deliveries to Ford Dealers will begin fall 2021. Actual delivery times may vary based on configuration selected, residency and demand. Once your vehicle is scheduled for production, you will receive further notification from us about its status.
Am I buying this vehicle directly from Ford?
No. The purchase agreement will be between you and Mike White Ford, not you and Ford Motor Company. A deposit is not required from Ford to submit a reservation.
The New Ford Maverick Is Coming to Coeur D'Alene, ID
Trucks are practical in so many ways, but the truth is that some people just don't need vehicles that are that large. Fortunately, these customers are soon going to have a really solid choice, and that's the new Ford Maverick. This truck is a compact model that can be ideal for many Liberty Lake, WA drivers, and it's coming in the fall of 2021.
Two Available Powertrains
One of the things that will make the Maverick appeal to many Hayden, ID customers is its hybrid powertrain. The base trim of the Maverick uses a 2.5-liter engine and an electric motor. These components work together to generate 191 horsepower. This hybrid system comes with front-wheel drive and a continuously variable automatic transmission. People won't have to pay extra for this hybrid powertrain, and, in the long run, they'll end up saving quite a bit of money at the gas station.
The other option is to get a 250-horsepower engine, which has been paired with an eight-speed automatic transmission. If you're a Post Falls, ID driver who needs all-wheel drive, you'll want to get this engine, though it's available with your choice of front-wheel or all-wheel drive.
Interior and Exterior Features
The Maverick looks modern and rugged. Inside the cabin, you'll find a lot of advanced equipment. The Maverick can have an 8-inch touchscreen, smartphone compatibility, a Wi-Fi hotspot, and driver-assist technology. Every trim is a crew cab, meaning that it has four full-sized doors. Five people can fit inside the cabin, and the numerous storage compartments make it easier to keep things organized. The truck bed measures 4.5 feet. This gives you enough space to accommodate a variety of items. If you need to travel around Rathdrum, ID with bulkier gear, keep in mind that this truck can also be used to tow up to 4,000 pounds.
Let our team at Mike White Ford of Coeur D'Alene know if you have any questions. You can also reserve one to guarantee yourself a place amongst some of the first to drive this new Ford truck.
DISCLAIMERS
By completing the reservation process, you are not ordering or purchasing a vehicle. Participation in the program does not guarantee you vehicle delivery. Your reservation does not guarantee a set price for the vehicle.
*2.5L hybrid powertrain. Actual mileage will vary. Final EPA estimated ratings available later in the 2021 calendar year.
** Max payload varies and is based on accessories and vehicle configuration. See label on door jamb for carrying capacity of a specific vehicle.
† Max towing with available 2.0L EcoBoost and 4K Tow Package. Max towing varies based on cargo, vehicle configuration, accessories and number of passengers. EPA-estimated fuel economy, payload and towing are independent attributes and may not be achieved simultaneously.
Apple CarPlay is a trademark of Apple Inc., registered in the U.S. and other countries. Android Auto is a trademark of Google LLC.BANG & OLUFSEN© 2021 and B&O© 2021. BANG & OLUFSEN™ and B&O™ are registered trademarks of Bang & Olufsen Group. Licensed by Harman Becker Automotive Systems Manufacturing Kft. All rights reserved.