Expect Quality Service from Our Ford Repair Specialists in Coeur d'Alene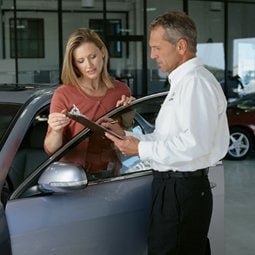 Throughout the course of owning your vehicle, you'll need to make sure its repairs and maintenance are up to date. When you do this you want to ensure that the people working on your vehicle give it the highest levels of care using the right tools, technology and equipment. That's what Ford drivers and those who drive any other brand get when they have their vehicle serviced with Mike White Ford of Coeur d'Alene. It's why we encourage our customers and those in need of auto service in areas like Rathdrum and Post Falls to come see us for an appointment today.
Why Service Your Vehicle With Us?
There are lots of service centers around places like Hayden and Liberty Lake, WA, but what sets us apart? Well, for starters we have the backing of a major brand that many people drive. You'll see plenty of Ford vehicles out on the streets from SUVs like the Escape and Explorer, and you can't go a day without seeing a truck like the Ford F-150 either. Whether it's routine maintenance like oil changes, tire rotations, alignments or other services that you need, we are here to perform them for you and get you in and out in short order, especially with repairs required at standard intervals. If there is a complex issue like a noise or something feels off about driving, we have the equipment to figure it out through diagnostics tests and can identify the issue so your Ford is repaired and back to running at its ideal state.
We also work on many other brands and can provide you with the backing of our dealership and the knowledge of our team that's here to get the job done.
Furthermore, if you've purchased a new or used vehicle from us, your first two service appointments are on the house. That's a benefit that you're not going to find from other service centers in the area. To learn more or to easily schedule an appointment, contact us or fill out our appointment form today. We'd be happy to get started with you provide all the auto service you need in Coeur d'Alene!